In April 2019, KPIT Technologies, previously KPIT Engineering, separated from Birlasoft.
Recent contract wins helped KPIT Technologies's cloud business unit increase by 20.8 percent (Quarter over Quarter) and 49.8 percent (Year over Year), according to a report that was just released by the brokerage. Choice said that the company had obtained new contracts with a total value of $272 million, which represents an almost twofold increase from the previous quarter.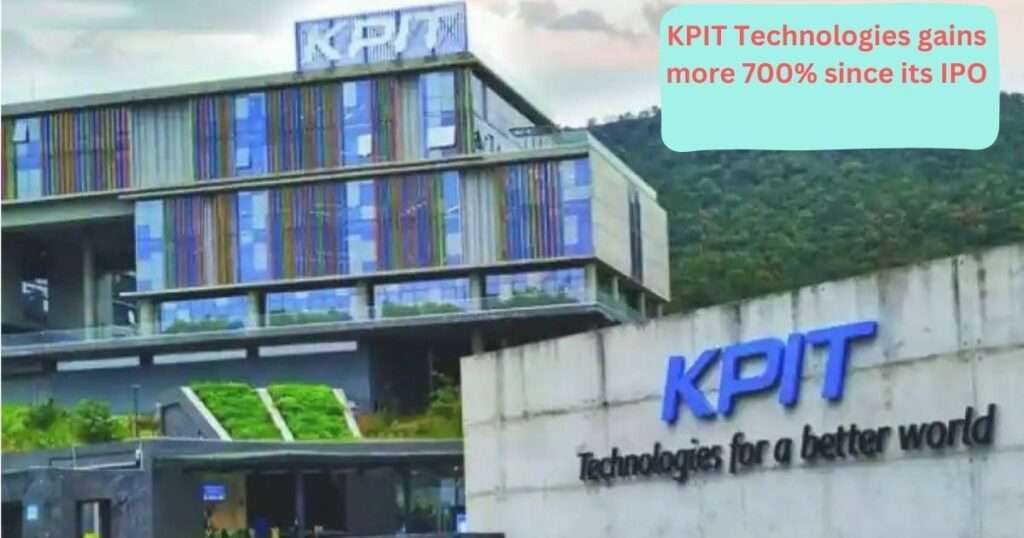 About KPIT technologies
KPIT Technologies is an Indian multinational information technology company headquartered in Pune, India. The company offers a range of services including product engineering, software development, and IT consulting to clients in various industries such as automotive, manufacturing, and energy & utilities.
KPIT was founded in 1990 and has since grown to become a leading provider of digital transformation solutions. The company has a global presence with operations in Asia Pacific, Europe, and North America, and employs over 16,000 professionals.
In recent years, KPIT has focused on expanding its expertise in emerging technologies such as artificial intelligence, machine learning, and the Internet of Things (IoT), to help clients in various industries transform their businesses and stay competitive in the digital age.
KPIT technologies share price|Valuation
The information technologies; KPIT Tech overall net profit for the quarter that ended in December 2022 (Q3 FY23) was 104 crore, which is a 48% increase from the 70.3 crore that it earned during the same time period the previous year. The company's operating revenue for the third quarter of FY23 was 917.11 crore, which is a 47% increase over the company's operating revenue for the third quarter of FY22, which was 622.36 crore.
Choice Equity Broking Research said that "strong performance this quarter has gotten factored in the recent share price run-up."
KPIT T cloud business segment expanded 20.8 percent (QoQ) and 49.8 percent (YoY), according to a recent report from the brokerage. Choice said that the business has secured new contracts for a total of $272 million, almost double the amount of contracts it had in the previous quarter.
"Talent development and retention continue to be priorities, and staff turnover has been on the decline for the last two quarters. The business anticipates that this tendency will continue. Margin should benefit from this, Choice said.
KPIT Technologies an analyst note
An analyst noted that support for the stock may be observed on the technical charts near Rs. 749.
KPIT Technologies resistance
For KPIT Technologies, Rs 790 is currently a significant resistance on the daily charts. If this barrier is closed above, Rs 855 may be reached soon. Support will be at Rs. 749, according to Tips2trade's AR Ramachandran.
KPIT Technologie moving averages of 5 days
The 5-day, 20-day, 50-day, 100-day, and 200-day moving averages were exceeded by the stock at its most recent price. The counter's relative strength index (RSI) over the last 14 days was 71.0. Oversold is defined as a level below 30, while overbought is defined as a level beyond 70. The stock of the corporation has a price-to-equity ratio (P/E) of 69.63.
According to Trendlyne statistics, KPIT Technologies has an average target price of Rs 740.33, indicating a possible downside of 6.52 percent. The stock's one-year beta value is 1.02, which indicates medium volatility.
Download pdf of KPIT Technologies Q4 2023 result
Q4 2023 result of KPIT Technologies
Download pdf of KPIT Technologies dividend
What does KPIT Technologies accomplish?
Ans. Fix the issue in unique manner. In order to make software-defined vehicles a reality, KPIT Technologies collaborates with the automotive and mobility ecosystem on a global scale. In order to advance mobility towards a clean, smart, and secure future, it serves as a premier independent software development and integration partner.
What was the Q4FY23 performance of KPIT Technologies?
Ans. KPIT Technologies, a mid-cap IT company, recorded a net profit of Rs. 111.6 crore in Q4FY23, up 41.5% year over year (YoY), thanks to recent big deals and robust development in the important automotive and mobility sector. In the three months that ended on March 31, revenue from operations increased by over 56% YoY to Rs 1017.3 crore.
KPIT Technologies' Share Holding Pattern|Investors on March 2023
Ans. Promoter: 39.49;
FIIS: 23.42;
DIIS:12.30;
Public: 23.41;
Others: 1.39
Open Your Demat Account with Discount Brokers:
ZERODHA : https://zerodha.com/open-account?c=EJ4366
or with Angelone: https://tinyurl.com/2gloc3g6