RVNL: In March, a partnership between Rail Vikas Nigam and CJSC Transmashholding of Russia won the lowest bid for the Rs 58,000 crore contract to build and maintain 200 trainsets.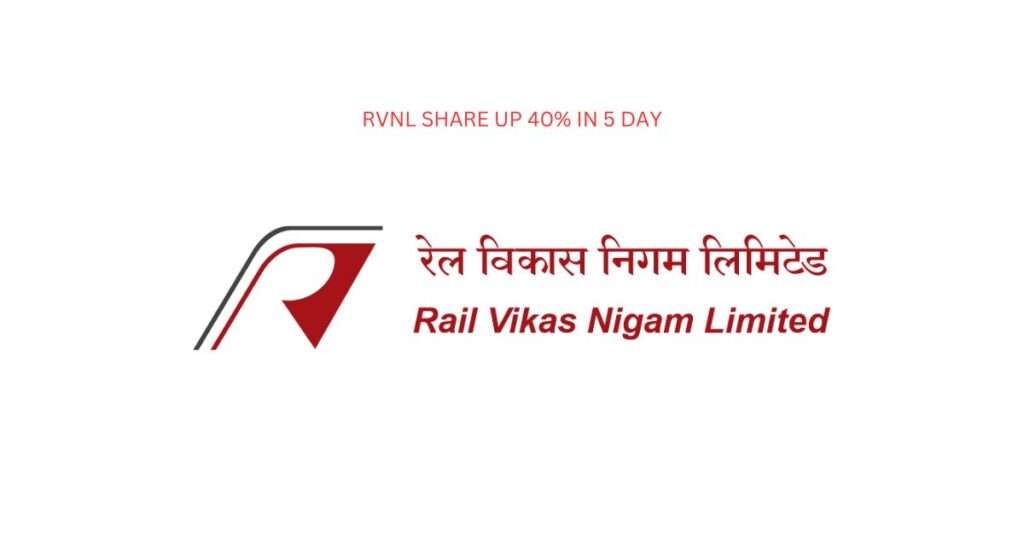 RVNL Share News
Rail Vikas Nigam (RVNL) stock increased 20% on Tuesday, extending its 5-days winning streak to 40%. As a result of Union Minister Raosaheb Danve's statement that efforts are being made to begin the Vande Bharat train production by August, RVNL, a company that works on railway projects such as the establishment of new lines, doubling, gauge conversion, railway electrification, metro projects, major bridges, workshops, and construction of cable-stayed bridges and institution buildings, has made headlines.
RVNL won Rs. 58,000 crore Contract
Recall that a consortium led by Russia's CJSC Transmashholding and Rail Vikas Nigam (TMH-RVNL) won the Rs 58,000 crore contract to build and maintain 200 trainsets at a cost of Rs 120 crore each in March after submitting the lowest proposal (L1). In a filing to stock exchanges on March 31, RVNL stated that it had received a letter of award from the Ministry of Railways for the same, which included upgrading the public manufacturing facilities and trainset depots.
TMH claimed to have won the international competition to build, provide, and maintain 120 16-car long-distance Vande Bharat electric trains for the Indian Railways state-owned enterprise, according to the Russian news agency TASS, and that the contract must be signed by June 1, 2023. According to TMH, the 35-year contract will pay $1.8 billion for the delivery of the trains and $2.5 billion for their upkeep. The contract's entire value might reach $6.5 billion when indexation is taken into consideration, it had stated.
RVNL and Russia will manufacture 120 Vande Bharat trains
Danve told PTI on Sunday that negotiations for the contract with a group consisting of Russia and RVNL were already underway and that the real coach manufacture was scheduled to start in August. At the Marathwada Railway Coach Factory in Latur, at least 120 improved Vande Bharat trains would be produced, according to Danve.
120 of the 400 new Vande Bharat trains that will be introduced in the nation—of which Prime Minister Narendra Modi has revealed plans—would be produced in Latur. The minister said that 80 more trains will be produced at this plant if necessary.
The stock increased 20% on Tuesday, reaching a high of Rs 105.30. With this, the stock has increased by 40% in only five sessions.
The Rail Vikas Nigam stock has also been in the headlines since RVNL just won the Mumbai Metro line 2B of MMRDA as the lowest bidder (L1). That project will cost 378 crore rupees. Additionally this month, RVNL got funding from the North Western Railway for the "Provision of Automatic Block Signalling on Madar-Sakhun Section (51.13 Kms) of Jaipur Division over North Western Railway." The order was worth 63 crore rupees.
Speaking to reporters, Danve stated that the Latur coach plant has been given 600 crore by the Centre, and that work is being done to get it up and running as soon as possible. He said that the contract negotiations with the Russian and Indian Rail Vikas Nigam Limited (RVNL) consortia were already underway and that real coach manufacturing was scheduled to begin in August.
Rail Vikas Nigam share is good to buy?
Ans. After receiving a letter of award from the Ministry of Railways for producing and maintaining Vande Bharat train sets, Rail Vikas Nigam saw a 40% increase in share price to Rs 105.30 in only four days of trading. It is a good time to invest in RVNL Share for the long term at least five years.
Is RVNL|Rail Vikas Nigam a wise investment?
Ans. Two analysts' combined recommendations for Rail Vikas Nigam are a strong buy. Technically, eight out of eight SMAs are being traded above by Rail Vikas Nigam . It is a good time for invest in RVNL Share for the long term at least five years.
Is Rail Vikas Nigam profitable?
Ans. High-quality profits are available at Rail Vikas Nigam. Growing Profit Margin: Since its IPO, Rail Vikas Nigam's net profit margins have increased to 433%.
Open Your Demat Account with Discount Brokers:
ZERODHA : https://zerodha.com/open-account?c=EJ4366
or with Angelone: https://tinyurl.com/2gloc3g6