Introduction
Multibagger stock below Rs 200: You can consider the stock, Markolines Pavement Technologies Ltd., also known as Markolines Traffic Controls Ltd, in its recent press release announced rights issue in the ratio 5:32. The price for the right issue is Rs 167 per share including Rs 157 premium per share.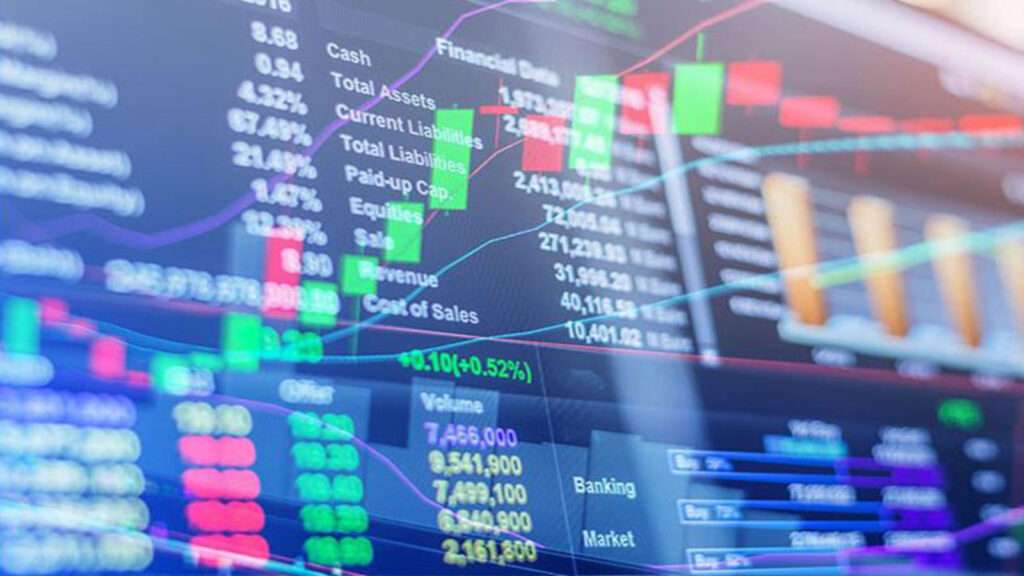 What is a Rights Issue?
A Rights Issue is a way for a company to raise capital from its existing shareholders by offering them the opportunity to buy additional shares at a discounted price compared to the current market rate. This mechanism allows the company to strengthen its financial position and fund various growth initiatives without approaching external investors.
Markolines: A Multibagger Stock's Success Story
2.1. Humble Beginnings on October 1, 2021
Markolines commenced its journey on October 1, 2021, with a vision to disrupt the market and provide innovative solutions in its domain. The company's early days were marked by perseverance, strategic planning, and a dedicated team that worked tirelessly to achieve its objectives.
2.2. Exponential Growth and Impressive Returns
In a short span, Markolines demonstrated remarkable growth, surprising both investors and market analysts. The company's ability to capitalize on emerging opportunities and adapt to changing market dynamics played a crucial role in its success. As a result, investors who had faith in the company were handsomely rewarded, experiencing an impressive return of 124.24%.
Understanding Markolines' Rights Issue
3.1. Record Date: January 17, 2023
Markolines has set January 17, 2023, as the record date for its rights issue. This date is significant as it determines which shareholders are eligible to participate in the rights offering.
3.2. Determining the Issue Size: Rs 4985.87 Lakh
The Board of Directors has carefully assessed the company's financial requirements and determined that the appropriate issue size for the rights offering is Rs 4985.87 lakh.
3.3. Total Rights Issues: 29,85,550 Equity Shares
Markolines plans to issue a total of 29,85,550 equity shares as part of the rights issue. Each of these shares will be offered to eligible shareholders at the predetermined discounted price.
The Rationale Behind the Rights Issue
The decision to opt for a rights issue is often driven by the company's need to raise funds for specific purposes, such as financing expansion plans, reducing debt, funding research and development, or pursuing acquisitions. Markolines aims to utilize the proceeds from the rights issue to propel its growth trajectory further and enhance shareholder value.
How Does a Rights Issue Work?
During a rights issue, eligible shareholders receive an entitlement to buy a specified number of additional shares at a discounted price. This right is usually offered in proportion to their existing shareholding. Shareholders can either exercise their entitlement and purchase the additional shares or sell their rights to other investors in the market.
Impact of the Rights Issue on Existing Shareholders
The rights issue provides existing shareholders with an excellent opportunity to increase their stake in the company without diluting their ownership percentage significantly. Additionally, those who do not wish to participate in the rights issue can potentially profit by selling their rights to interested buyers.
Investor Sentiment and Market Response
The announcement of a rights issue can have varying effects on investor sentiment and market response. Positive sentiment can lead to increased demand for the company's shares, potentially driving up the stock price. However, negative sentiment or concerns about the issue's purpose and execution may impact investor confidence.
Analyst Recommendations and Future Outlook
Market analysts and experts closely monitor developments surrounding the rights issue and assess its potential impact on the company's performance. Their recommendations can influence investor decisions, and a positive outlook may further boost market confidence in Markolines.
Risks and Considerations for Potential Investors
As with any investment, potential investors must consider various risks associated with Markolines and the rights issue. Market volatility, industry competition, regulatory changes, and the company's ability to execute its growth plans are crucial factors to evaluate before making investment decisions.
Conclusion
Markolines' journey from its inception on October 1, 2021, to becoming a multibagger stock with a 124.24% return has been nothing short of impressive. The company's decision to undertake a rights issue on January 17, 2023, is a testament to its commitment to sustainable growth. By providing existing shareholders with an opportunity to participate in the rights offering, Markolines aims to secure the necessary capital for its future expansion plans.
FAQs
1. Who is eligible to participate in Markolines' rights issue?
All existing shareholders of Markolines on the record date, January 17, 2023, are eligible to participate in the rights issue.
2. What is the issue size for Markolines' rights offering?
The issue size for Markolines' rights offering is Rs 4985.87 lakh.
3. How many equity shares will be issued as part of the rights issue?
A total of 29,85,550 equity shares will be issued as part of Markolines' rights issue.
4. Can shareholders sell their rights to other investors?
Yes, eligible shareholders have the option to sell their rights to other investors in the market.
5. What will Markolines utilize the funds raised from the rights issue for?
Markolines plans to use the proceeds from the rights issue to finance its growth initiatives and enhance shareholder value.
It's financial statements of half-yearly and annual, the firm reported positive results. In H1FY23 net sales rose by 100.12 per cent and net profit rose by 157.24 per cent compared to H1FY22. The stock has a 52-week high of Rs 207 and a 52-week low of Rs 59.35. Investors should keep an eye on this Small Cap Stock for this year 2023.
Company's Business
Highways are the vital roads that connect various regions. A perfectly running highway network is one which is well-managed and operated to deliver a safe and comfortable ride to the commuter. the company offers a gamut of services to improve the performance of Highway Operations. company's solutions are designed to relieve vehicular congestion, maximize safety and boost the mobility of personal and commercial vehicles. Markolines aspire to deliver a system that is safe, accessible and easy to navigate. Our excellent regional & cultural understanding and contingency management puts us ahead of the competition.
Highway Maintenance
Highways are lifelines of a nation, it is crucial to keep these in good working condition. Markolines provides a suite of maintenance services to address diverse road conditions. Weather, traffic volume and geographical conditions often impact the roads and it is important to take these factors into consideration while arriving at the right treatment. company's team of experts is experienced to handle repairs, replacements, and maintenance projects, and is guided by the tenets of health, safety, security, and environment (HSSE). The company is updated with knowledge of the latest trends and technologies, and implements the same on our site to deliver an improved solution.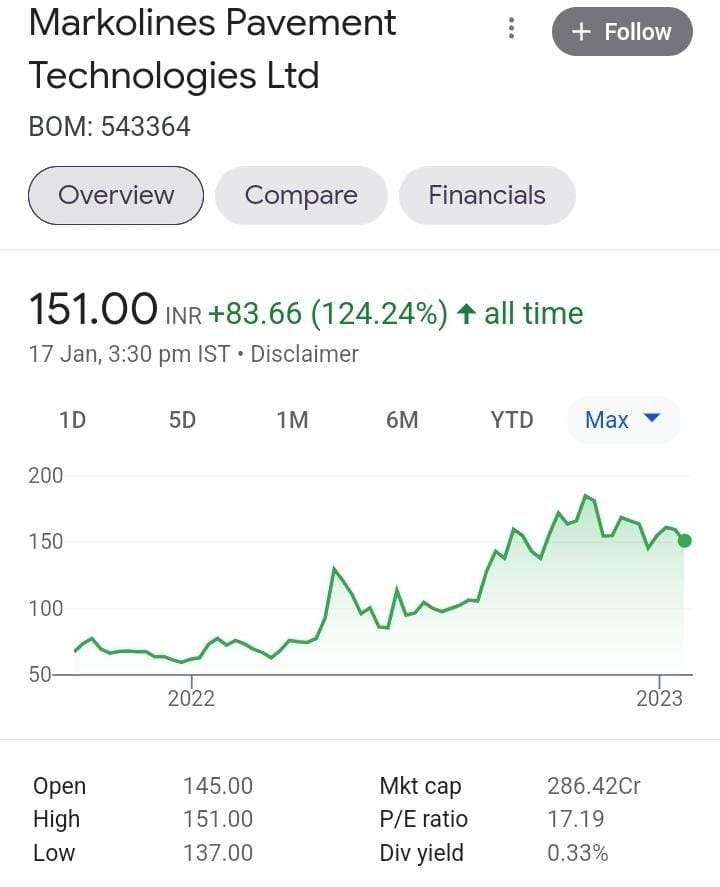 Today, shares of Markolines Pavement Technologies Ltd it is down by 1.02 per cent to Rs 151.00 per share from its previous closing of Rs 158.50. The stock delivered mutlibagger returns of 110.07 per cent over the previous year and returns of 124 per cent during the previous 15 months.
https://stockmarkethome.in/wp-admin/
Open your DMATE ACCOUNT FREE:
ZERODHA : https://zerodha.com/open-account?c=EJ4366
ANGELONE: https://angel-one.onelink.me/Wjgr/tqyth5mn