Introduction
In this article, we examine Ashok Leyland's financial performance during the fourth quarter, highlighting significant developments and exploring the variables that affected the company's profitability and sales growth. An important commercial vehicle producer in India, Ashok Leyland, released its financial figures for the fourth quarter, showing a fall in profit after tax (PAT) but a large increase in sales. We examine the ramifications of these numbers and provide perceptions into the operation of the business.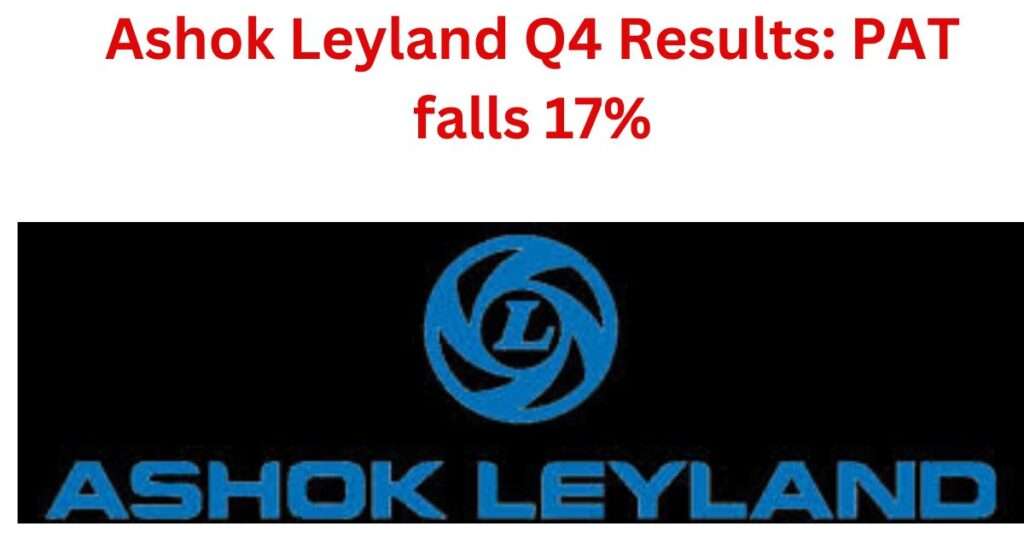 Monetary highlights
Decline in Profit After Tax (PAT)
When compared to the prior year's fourth quarter, Ashok Leyland's profit after tax (PAT) decreased by 17%. This quarter's PAT came to Rs. 751 crore. Analysing this decline in profitability is essential since it affects the company's overall financial stability.
Sales Increase
Ashok Leyland had a notable gain in sales during the fourth quarter despite a fall in profitability. Sales for the firm increased by an astonishing 33%, demonstrating a healthy market for its commercial cars. This increase in sales demonstrates Ashok Leyland's capacity to attract clients and keep a competitive advantage over rivals.
Performance-Influencing Factors Sales Increase
The fourth quarter's financial performance for Ashok Leyland was influenced by a number of things. Understanding these elements may help explain why profitability is declining while sales are rising at the same time.
Impact of Input Cost Increases
The increase in input costs is one of the main issues hurting Ashok Leyland's profitability. The firm had difficulties in the fourth quarter as a result of rising costs for raw materials used to make commercial vehicles, such rubber and steel. The company's profit margins were harmed by the rise in input costs, which caused a drop in PAT.
Market rivalry and pricing
In India, there is fierce competition for market dominance among the leading companies in the commercial vehicle sector. Ashok Leyland is up against fierce competition from both local and foreign producers. Pricing strategies are essential in this situation for affecting sales and profitability. Ashok Leyland must find a balance between keeping its pricing low enough to attract consumers and high enough to guarantee good profit margins.
Market demand and sales volume
Due to a spike in the demand for commercial vehicles, Ashok Leyland's sales saw a noticeable increase during the fourth quarter. During this time, the Indian economy saw significant momentum, which prompted a rise in commercial activity and the construction of new infrastructure. As a consequence, both companies and private buyers strove to acquire commercial vehicles, increasing Ashok Leyland's sales volume.
Future Perspectives and Plans
Analysing Ashok Leyland's Q4 results provide insightful information about the company's financial performance and aids in the development of its future initiatives. The corporation may develop the following tactics to improve profitability and maintain sales growth based on the facts at hand:
Cost optimisation, first
Ashok Leyland may concentrate on cost-saving efforts to lessen the effects of increased input prices. This may include looking into other suppliers, negotiating better purchase agreements, and putting effective inventory management strategies into practise. The business may protect its profit margins and enhance its financial performance by reducing its cost structure.
Product Differentiation and Innovation
Ashok Leyland should keep investing in research and development, concentrating on product innovation and distinction, to remain ahead in a cutthroat market. The corporation may expand its client base and gain more market share by providing cutting-edge innovations, improving fuel economy, and resolving consumer pain points.
Customer engagement and strategic marketing
To raise brand awareness and improve consumer involvement, Ashok Leyland should develop thorough marketing strategy. The business may reach a larger audience through using digital platforms, conventional advertising methods, and strategic collaborations. Additionally, emphasising after-sales services and fostering long-lasting connections with clients may increase client loyalty and support steady sales development.
Conclusion
Ashok Leyland's Q4 figures, in sum, show a fall in profitability but a considerable increase in sales. The company's financial performance was impacted by a number of variables, including increased input prices and market rivalry. Ashok Leyland has to put cost reduction, product innovation, and smart marketing activities first if it wants to succeed in the future. By using these tactics, the business may overcome obstacles, seize market opportunities, and maintain its position as a major force in the commercial vehicle sector.
Disclaimer: The material in this post is simply meant to be informative. It shouldn't be seen as investing or financial advice. Before making any investing choices, readers are urged to do further research and speak with financial experts.