Introduction
Tata Motors has achieved remarkable growth in its passenger vehicle (PV) sales, in the dynamic and ever-evolving automobile industry. In the month of June 2023, Tata Motor witnessed a significant increase of 8% in its PV sales compared to the previous year. Moreover, its domestic sales showed a marginal rise of 1% during the same period. This growth demonstrates Tata Motors' commitment to delivering high-quality vehicles that meet the evolving demands of consumers. Let's delve deeper into the specifics of Tata Motors' sales performance and the factors contributing to its success.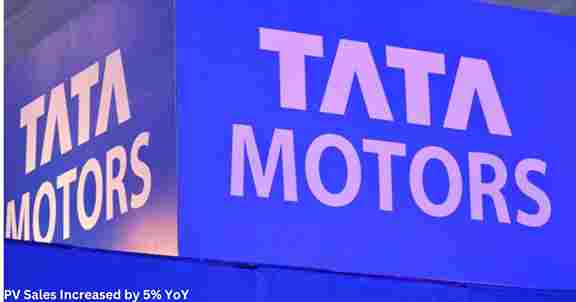 Tata Motor' Strong Performance in PV Sales
8% YoY Increase in Passenger Car Sales in June 2023
Company experienced an impressive year-over-year growth of 8% in its passenger car sales during June 2023. This substantial increase indicates the brand's ability to resonate with customers and provide them with vehicles that meet their expectations. The company's focus on innovation, design, and technology has contributed to its success in the competitive PV segment.
Marginal Domestic Sales Rise of 1% in the Past Year
Firm also witnessed a slight rise of 1% in its domestic sales over the last year. This achievement is a testament to the brand's strong presence and popularity among Indian consumers. Company has been successful in catering to the diverse needs of the domestic market, thereby maintaining its position as one of the leading automobile manufacturers in India.
Comparison to the June Quarter of the Prior Year
When comparing performance in the June quarter of the previous year, the company experienced an impressive 8% year-over-year increase in its passenger car sales. This growth highlights the brand's ability to consistently meet customer demands and adapt to changing market trends.
Rise in Sales of Domestic Passenger Automobiles
5% Increase in Domestic Passenger Automobile Sales
Tata Motors reported a notable rise in the sales of domestic passenger automobiles, which included both conventional and electric vehicles. In June of the previous year, the sales figures climbed from 45,197 units to 47,235 units, representing a 5% increase. This growth is a result of Companys' strategic product offerings and their ability to cater to a wide range of customer preferences.
Greatest Quarterly Sales Ever in the June Quarter
The June quarter proved to be exceptionally fruitful for the company, as the company achieved its highest-ever quarterly sales. The strong demand for firms' vehicles reflects the brand's commitment to excellence and its ability to meet the evolving needs of customers. This achievement further solidifies Tata Motors' position as a key player in the Indian automobile market.
Factors Driving Company's Success in PV Sales
Tremendous Demand in the Passenger Vehicle Market
Shailesh Chandra, the Managing Director of Tata Passenger Electric Mobility Ltd, attributed the strong performance of the passenger vehicle market to the tremendous demand witnessed in the June quarter. This demand was primarily driven by the introduction of new vehicle models, especially in the SUV and electric vehicle (EV) segments. Tata Motors' ability to offer compelling products in these categories has significantly contributed to its success.
Tiago EV Driving EV Sales Expansion
The success of Tata Motors' EV sales can be attributed to the popular Tiago EV model. The Tiago EV has played a pivotal role in driving the expansion of Tata Motors' EV lineup. Additionally, the demand for other EVs remains strong, indicating a growing acceptance of electric mobility among.
What role does customer feedback play in Tata Motors' PV sales growth?
A: Customer feedback plays a crucial role in Tata Motors' PV sales growth. The company actively listens to its customers and incorporates their suggestions and preferences into its product development and improvement processes. This customer-centric approach enhances customer satisfaction and drives sales.
Q: How does Tata Motors plan to sustain its growth in PV sales in the future?
A: Tata Motors has outlined a comprehensive growth strategy to sustain its PV sales growth in the future. This strategy includes continuous product innovation, expanding the distribution network, investing in electric mobility, and leveraging emerging technologies to meet the evolving demands of consumers.
Q: What are the potential challenges that Tata Motors may face in maintaining its sales growth?
A: While Tata Motors has achieved remarkable growth in PV sales, there are potential challenges that the company may face. These challenges include intensifying competition, changing market dynamics, evolving customer preferences, and external factors such as government policies and economic conditions. However, Tata Motors' strong brand reputation, innovative approach, and customer focus position it well to navigate these challenges successfully.
Open Your Demat Account with Discount Brokers:
ZERODHA 1) : https://zerodha.com/open-account?c=EJ4366
Angelone 2) : https://tinyurl.com/2gloc3g6 or Upstox
3): https://link.upstox.com/9w4tNo1rK8au7VK47