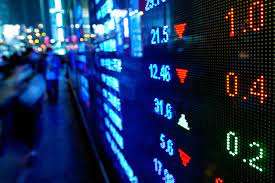 Stock Market Today : Top Ten Gainers of 28th Feb 2023
| Symbol | LTP | % CHANGE |
| --- | --- | --- |
| ADANIENT | 1,371.35 | 14.9 |
| ADANIPORTS | 590.70 | 5.11 |
| ASIANPAINT | 2,832.85 | 3.02 |
| BRITANNIA | 4,467.80 | 1.81 |
| M&M | 1,275.35 | 1.43 |
| POWERGRID | 222.00 | 1.28 |
| ULTRACEMCO | 7,259.00 | 1.01 |
| TATACONSUM | 715.95 | 0.8 |
| HDFC | 2,610.00 | 0.69 |
| TATAMOTORS | 420.65 | 0.65 |
Top Gainers of 28.02.2023
Stock Market Today : Top Ten Losers of 28th Feb 2023
| Symbol | LTP | % CHANGE |
| --- | --- | --- |
| CIPLA | 905.8 | -4.67 |
| HINDALCO | 399.45 | -3 |
| DRREDDY | 4,314.00 | -2.42 |
| ONGC | 152 | -2.09 |
| RELIANCE | 2,319.95 | -2.02 |
| JSWSTEEL | 667.2 | -1.95 |
| TATASTEEL | 104.1 | -1.89 |
| BAJAJFINSV | 1,334.95 | -1.65 |
| UPL | 696.95 | -1.6 |
| ITC | 376.5 | -1.49 |
Top losers of 28.02.2023
For the eighth session in a row, the Indian stock market finished negative on February 28 due to selling in the metal, oil & gas, healthcare, and information technology sectors. In anticipation of the publication of the GDP figures later in the day, investors also became more cautious.
The Nifty was down 88.70 points, or 0.51 percent, at 17,304 at closure, while the Sensex was down 326.23 points, or 0.55 percent, at 58,962.12.
Despite a slow start, the market stayed range-bound in the morning. However, selling in the afternoon drove the indices lower, with the Nifty falling to a new low for the day of 17,250.
The Nifty50 lost 2 percent and the BSE lost 1 percent in February.
SEBI|सेबी शुरू करेगा 44 म्यूचुअल फंडों का Forensic|फॉरेंसिक ऑडिट

निवेशक लंबी अवधि के लिए 2023 में Smallcaps| स्मॉलकैप शेयरों में खरीदारी पर विचार कर सकते हैं
Moody's मूडीज ने अडाणी की 4 कंपनियों की रेटिंग आउटलुक 'स्थिर' से घटाकर 'नकारात्मक' की
एनएसई, बीएसई पर आईआरएफसी|IRFC शेयर की कीमत 30 रुपये से नीचे फिसल गई;क्या आपको खरीदना चाहिए?
अपना DMATE खाता निःशुल्क खोलें:
ZERODHA : https://zerodha.com/open-account?c=EJ4366
ANGELONE : https://tinyurl.com/2gloc3g6