ITI Limited, a government telecom business, has been creating waves in a highly competitive industry with its 'Smaash Laptop' brand of laptops and tiny PCs. Under the direction of ITI Chairman and Managing Director Rajesh Rai, the business has won contracts against industry heavyweights like Acer, HP, Dell, and Lenovo in addition to introducing high-quality goods. This article explores ITI Limited's Smaash Laptop brand's success story, market effect, and good contributions—such as carbon emissions reductions—made to the industry.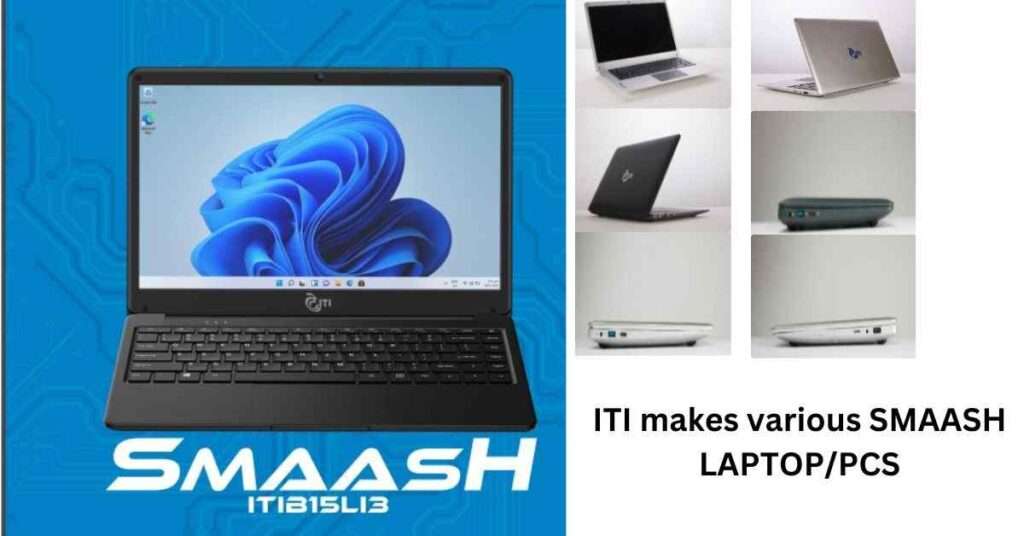 The Amazing Journey of The Smaash Brand

ITI Limited created the Smaash laptop brand, which has rapidly become well-known for its outstanding performance and quality. Customers' reaction to its launch in the very competitive sector has been overwhelmingly favorable. ITI's Chairman and Managing Director, Rajesh Rai, has guided the company to win contracts and receive tenders—a noteworthy accomplishment in light of the competition.
ITI's Victory Against Market Titans

One of the Smaash laptop and PC brand's most noteworthy accomplishments is its overthrow of industry heavyweights like Acer, HP, Dell, and Lenovo. Despite the dominance of these well-known businesses, ITI Limited has made a name for itself in the industry by producing laptops and microPCs that not only meet but even surpass their standards.
Share Value Explodes

The share price of ITI Limited has also shown the success of the Smaash laptop brand. Shares of the corporation increased significantly when its accomplishments were announced, rising as high as twenty percent. This noteworthy expansion demonstrates the market's faith in ITI Limited and its offerings. The company's shares were trading at Rs 86 a year ago, demonstrating the remarkable development it has achieved.
Contributions to the Environment

Apart from its commercial achievements, ITI Limited has made environmentally beneficial contributions. The firm and Intel Corporation have worked together to create mini personal computers (PCs) that have the same functionality as conventional PCs but with lower carbon emissions. With more than 12,000 of these environmentally friendly PCs in use, a major dent in carbon footprints has already been made.
Gaining Bids and Reaching New Audiences

ITI Limited, led by Rajesh Rai, demonstrated its dedication to providing high-caliber goods to educational institutions by winning two bids from Kerala Infra and Technology for Education. By producing and delivering 9,000 smaash laptops to Keralan schools via these bids, ITI Limited would be able to further increase its impact and scope.
The Notoriety of ITI Limited in the Telecom Sector

ITI Limited is the leading telecommunications corporation in the nation and is a multi-unit central public sector operation. It provides a wide variety of telecom devices, including equipment for access and subscriber premises, switching, and transmission. With its outstanding history and cutting-edge product line, it continues to lead the telecom sector.
The Performance of the Market and Its Prospects

Although there was a temporary decline in the value of ITI Limited's shares throughout the last six months, there has been a notable rise in the stock lately. It is now trading just below its July 2022 52-week high of Rs 129.65, but it still has a commanding position in the market.
Various Product Offerings

ITI Limited has introduced a variety of trademarked/branded ICT products, such as Micro PCs, Desktop PCs, Smaash Laptop Computers, and Video Conferencing Cameras, in addition to the Smaash Laptop and PCs brand. In keeping with the government's 'Make in India' campaign, these products highlight the company's dedication to regional production and innovation.
A Financial Overview

ITI Limited had a net loss of Rs 100.34 crore as of Q2 FY23 while reporting total revenue of Rs 197.55 crore. The company's market value of Rs 10,322 crore is still excellent in spite of this loss.
Ownership and Pledge Status: The promoters of ITI Limited possess a substantial 90.09 percent share in the firm, while Foreign Institutional Investors (FIIs) hold a smaller 0.07 percent investment. This represents the company's ownership structure. The promoters' notable lack of share pledges suggests a solid and safe ownership structure.
How did Smaash Laptop become so well-known in such a cutthroat industry?
A: Rajesh Rai, the Chairman and Managing Director of ITI, provided excellent leadership and the brand's outstanding quality and performance are responsible for its success.
What distinguishes ITI Limited from major players in the market like Acer, HP, Dell, and Lenovo?
A: By providing goods that not only meet but also transcend industry standards, ITI Limited has been able to outperform these industry titans and gain the trust of its consumers.
In what way has ITI Limited helped lower carbon emissions?
A: ITI Limited and Intel Corporation worked together to create environmentally friendly micro PCs that function like regular PCs but emit less carbon dioxide.
What recent contracts has ITI Limited won?
A: Kerala Infra and Technology for Education has awarded the business bids to build and sell 9,000 laptops to Keralan schools.
In the telecom sector, how does ITI Limited fare?
A: major participant in the telecom sector, ITI Limited provides a variety of telecom goods, such as access & subscriber premises equipment, switching, and transmission.
What is ITI Limited's current financial situation?
A: net loss of Rs 100.34 crore was recorded by ITI Limited as of Q2 FY23, despite the company reporting total revenue of Rs 197.55 crore.
In summary

In the very competitive industry, ITI Limited's Smaash laptop brand has become a powerful force, led by ITI Chairman and Managing Director Rajesh Rai. ITI Limited keeps leaving its imprint on the market with great goods, eco-friendly projects, and a dedication to quality. The business maintains its resilience in the face of difficulties, showing promise for even bigger successes in the road.
Open Your Demat Account with Discount Brokers:
ZERODHA 1) : https://zerodha.com/open-account?c=EJ4366
Angelone 2) : https://tinyurl.com/2gloc3g6 or Upstox
3): https://link.upstox.com/9w4tNo1rK8au7VK47