Inflame Appliances: Multibagger Stock, the realm of consumer goods, one small-cap business is making waves with its recent achievement. Inflame Appliances, a prominent supplier of home solutions and kitchen appliances in India, has secured its largest order to date. This order, valued at a staggering Rs.15.4 crore, revolves around the purchase of chimneys. The significance of this order is not to be overlooked, as it showcases the remarkable growth and potential of Inflame Appliances. Traders and investors are advised to closely monitor this small-cap stock as it continues to pursue ambitious development goals.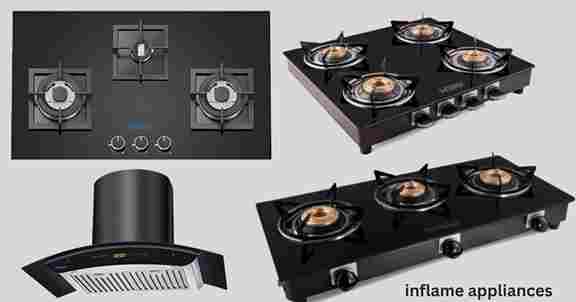 Tremendous Financial Performance
The financial performance of the company has been nothing short of impressive. The company has experienced substantial growth and remarkable results, which have contributed to its reputation as an up-and-coming player in the market. Let's delve into the numbers to gain a better understanding of their accomplishments.
Extraordinary Increase in EBITDA of Inflame Appliances
The EBITDA (Earnings Before Interest, Taxes, Depreciation, and Amortization) for has witnessed an astonishing surge. The latest figures show a remarkable increase of 214.77% to reach Rs. 8.31 crore. This substantial growth signifies the company's ability to generate significant operating profits and highlights its efficient management of costs.
Substantial Rise in Net Profit
In addition to the impressive EBITDA, Inflame Appliances has experienced a noteworthy spike in net profit. The figures for this period reveal a substantial increase of 1,242% compared to the same period in the previous year. The net profit reached a staggering 4.7 crore, further solidifying the company's financial stability and success.
A Beacon of Light Amidst Uncertainty
Inflame Appliances stands out as a beacon of light in a market filled with doubt and uncertainty. Its exceptional performance has captivated investors and instilled unparalleled purchasing enthusiasm. Recently, one of the market's largest companies has demonstrated its confidence in the company by placing a substantial order for chimneys.
Largest Single Order to Date
The order, totaling Rs. 15.4 crore, encompasses approximately 36,000 chimneys from a variety of SKUs (Stock Keeping Units). This order is the largest single order company has received thus far. The chimneys will be manufactured and supplied by the firm from its state-of-the-art facility in Panchkula, Haryana. The company anticipates completing the project within the next two months, showcasing its efficiency in delivering high-quality products within a defined timeframe.
Steadfast Growth and Ambitious Goals
Inflame Appliances has set its sights on steady growth and has established ambitious goals to further expand its offerings in the kitchen equipment market. With a target of achieving a 50% compound annual growth rate (CAGR) over the next three to five years, the company is committed to its long-term success.
Expanding Product Range
To support its growth plans,firm intends to increase the production of chimneys in the coming fiscal year. The company plans to manufacture 240,000 chimneys at its Panchkula factory and an additional 100,000 chimneys at its Hyderabad site for the fiscal year 2023–2024. This expansion will allow Inflame Appliances to cater to a broader market and meet the evolving demands of its customers.
Expertise in Kitchen Equipment
Inflame Appliances specializes in producing a range of kitchen equipment, including cooktops, stoves, and sheet metal parts for LPG (liquefied petroleum gas) appliances. The company's operations primarily take place at its metal pressing facility, where it excels in the manufacturing of various kitchen appliances. This expertise has positioned the company as a trusted and reliable supplier in the industry.
Remarkable Returns and Growth Potential
The past performance of the company speaks volumes about its potential for future growth. The company has achieved remarkable returns over the years, solidifying its position as an attractive investment opportunity. During the previous year alone, Inflame Appliances delivered impressive returns of 45.19%. Looking further back, its performance over the past three years has been extraordinary, with an exceptional return of 732%. Investors are advised to keep a close eye on this small-cap company, as it possesses high growth potential.
Conclusion
Inflame Appliances has soared to new heights with its recent Rs.15.4 crore order, marking a significant milestone for the small-cap consumer goods business. The order, the largest the company has received to date, underscores its impressive financial performance and ambitious growth plans. With a steadfast commitment to providing high-quality kitchen solutions and an expanding product range, Inflame Appliances is poised for continued success in the market.
---
FAQs
1. What is Inflame Appliances known for? Inflame Appliances is renowned for its expertise in producing cooktops, stoves, and sheet metal parts for LPG appliances. The company specializes in manufacturing various kitchen equipment.
2. What is the value of the recent order received by Inflame Appliances? The recent order received by Inflame Appliances is valued at an impressive Rs.15.4 crore and includes approximately 36,000 chimneys.
3. What is the growth rate Inflame Appliances aims to achieve? Inflame Appliances aspires to achieve a compound annual growth rate (CAGR) of 50% over the next three to five years, showcasing its determination for steady expansion.
4. Where will the chimneys be manufactured and supplied from? The chimneys will be manufactured and supplied by Inflame Appliances from its advanced facility located in Panchkula, Haryana, India.
5. What is the recent financial performance of Inflame Appliances? Inflame Appliances has experienced remarkable financial performance, with an astonishing 214.77% increase in EBITDA and a substantial rise of 1,242% in net profit compared to the previous year.
Read More latest updates here:
Open Your Demat Account with Discount Brokers:
ZERODHA 1) : https://zerodha.com/open-account?c=EJ4366
Angelone 2) : https://tinyurl.com/2gloc3g6 or Upstox
3): https://link.upstox.com/9w4tNo1rK8au7VK47