The Q4 financial results of HCL Technologies are forthcoming. The services sector is anticipated to be the main driver of growth, although due to seasonal weakness, most analysts anticipate a sequential fall in constant currency sales, with software revenue in particular projected to see a severe decline. Reliance Securities forecasts a 1.6% QoQ decline in HCL's revenue for the current quarter, with guidance calling for 5-7% YoY sales growth and 18.5–19.5% margins.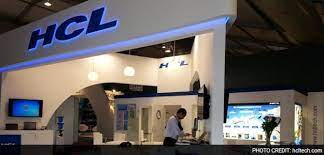 HCL Technologies Q4 Beats estimates
All eyes was on HCL Technologies, which is reported its fourth-quarter results on Thursday, April 20, after a dull set of statistics from TCS and Infosys.
Following the IT company's announcement of an interim dividend of Rs 18 per share, bringing the total payout for the fiscal year 2023–24 to Rs 48 per share, the share price of HCL Technologies increased by 2.79% to Rs 1,066.45. In comparison to the same quarter last year, the company's net profit increased 11% year over year to Rs 3,983 crore, above expert expectations. In comparison to the same quarter last year, when the revenue was Rs 22,597 crore, it increased by 18% to Rs 26,606 crore. The interim dividend payment date has been set for May 9, 2023, and the record date has been established as April 28, 2023..
HCL Technologies Declining Income
With 1.3% QoQ (cc) growth in the services sector more than offsetting a 19% QoQ (cc) fall in the P&P segment owing to seasonal weakness, Jefferies predicted that HCL Tech would see degrowth of 1.2% QoQ (cc).
HCL Tech's revenue is expected to fall 1.6% QoQ in CC and 0.5% QoQ in USD, according to Reliance Securities, which attributes this to a 20% QoQ decline in P&P.
Margins of EBIT
Due to reduced margins for the P&P business, Jefferies predicts a 100 basis point decline in EBIT margins. Due to a shift in the business mix and a significant reduction in software sales, Emkay Global anticipates a 120 bps sequential fall in EBIT margins.
For FY24, HCL Tech is anticipated to provide revenue growth forecast of 5% to 7% YoY and margin range of 18.5 to 19.5%. Regarding profitability, HCL Tech is predicted to provide an EBIT margin.
HCL Technologies Income from services
The ramp-up of significant transactions negotiated in recent quarters would help the services revenue increase by 1.5% in constant currency, offsetting ramp-downs in affected sectors including hi-tech and entertainment.
Investors will closely monitor the company's expectations for FY24, transaction wins, deal pipeline, and deal closing rate.
Things to be cautious of
It will also be watched for management comments on the demand forecast for important industries including BFSI, manufacturing, technology, retail, and healthcare.
Estimates of earnings and revenue
During the fourth quarter, HCL Tech anticipates reporting a net profit after tax (PAT) of Rs 3,825 crore, which would be up around 7% over the prior quarter. Profit is projected to decrease sequentially. During the quarter ending in March, revenue is anticipated to have increased 17% year over year to Rs 26,467 crore.
HCL Technologies reported a net profit of Rs 4,096 crore for the December quarter, with Rs 26,700 crore in sales. In contrast to the benchmark Nifty's 3.15% fall so far this year, HCL Tech has increased by about 2%.
When will HCL Technologies report its Q4 financial results?
Ans. HCL Technologies (HCLTECH), India's third-largest IT business by market worth behind TCS and Infosys, will announce its Q4 earnings on April 20. HCL Technologies (HCLTECH) will release its March 2023 financial results on Thursday, April 20.
Motilal HCL Technologies Q4 FY23 prediction?
In Q4 FY23,  Motilal Oswal Financial Services Limited predicts HCL Technologies to generate 27.200 crore, up 20.3% YoY. In the quarter, EBITDA may reach 6,400 crore with a 23.8% margin. Adjusted PAT is estimated at 4,100 crore, up 19% YoY and 17.4% QoQ.
What is a salary hike in HCL?
Ans. Following two years of the COVID-19 epidemic, things are finally looking up, especially for freshmen! How? Higher salaries, of course. HCL Technologies in Noida has raised freshers' salaries from Rs 3.5 lakh to Rs 4.25 lakh.
HCL Q4 results today
Ans. HCL Tech Q4 Results: Profit Increases 11% Year Over Year To 3,983 Crore, while Revenue Increases 18%
Does HCL Technologies announce a dividend?
Ans. HCL Tech declared an interim dividend of ₹18 per equity share on Thursday. This would be the first dividend for the fiscal year FY24,
Does HCL Technologies announce a record date for dividend?
Ans. April 28, 2023 has been chosen as the record date for identifying eligible stockholders. For HCL Tech, the record date and the ex-dividend date are the same.
Open Your Demat Account with Discount Brokers:
ZERODHA : https://zerodha.com/open-account?c=EJ4366
or with Angelone: https://tinyurl.com/2gloc3g6