Introduction
Bajaj Auto-Triumph Launched the Speed 400 and Scrambler 400X motorcycles are entirely made in India. These bikes offer a range of impressive features, including USD forks, rear mono-shocks, and disc brakes on both wheels with dual-channel ABS. Additionally, they incorporate distinctive style elements influenced by their brothers. The Triumph items will be produced in Bajaj's new Chakan facility, which boasts a monthly capacity of 5,000 units and plans to export them worldwide.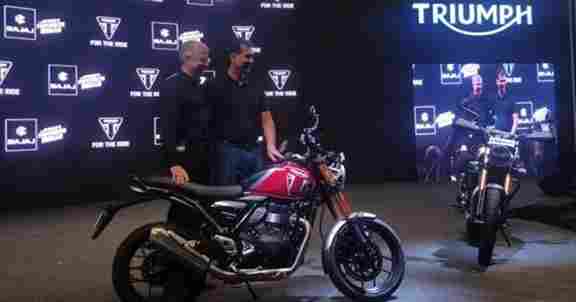 On Wednesday, Bajaj Auto-Triumph unveiled the highly anticipated Speed 400 and Scrambler 400X bikes in India. These motorcycles mark the first collaboration between Bajaj Auto and the renowned British luxury motorbike manufacturer Triumph.
The announcement of these two exciting new motorcycles took place in London last week, capturing the attention of motorcycle enthusiasts around the world.
Speed 400 and Scrambler 400X Release Details
The exclusive sale of the Speed 400 and Scrambler 400X bikes will be limited to Triumph dealerships. While the Scrambler 400X is expected to hit the market in October, the Speed 400 will be available for purchase in the middle of July.
Speed 400 Pricing
The Speed 400 comes with a price tag of Rs 2.33 lakh. However, Bajaj Auto-Triumph has decided to offer a special discounted rate of Rs 2.23 lakh for the first 10,000 customers. This exciting offer provides a fantastic opportunity for motorcycle enthusiasts to own this exceptional machine at an attractive price point. In a video broadcasted during the unveiling ceremony, John Bloor, the founder of Triumph Motorcycles, mentioned that the pricing details for the Scrambler 400X will be announced at a later date.
Design Inspirations
The Triumph Speed 400 draws inspiration from the design language of its powerful sibling, the Speed Twin 900. Both motorcycles are proudly manufactured in India. On the other hand, the Scrambler 400X takes its design cues from the Scrambler 900/1200, adding its own unique flair to the mix.
During the unveiling event, Bajaj Auto Managing Director Rajeev Bajaj expressed optimism about the potential success of these new bikes, stating, "We are hopeful of achieving significant volume."
Manufacturing and Global Reach
Bajaj Auto's state-of-the-art Chakan facility will serve as the manufacturing hub for the newest Triumph products. With a monthly production capacity of 5,000 units, the facility is well-equipped to meet the demand for these exciting motorcycles. Moreover, the motorcycles will be exported from India to various countries across the globe, showcasing the prowess of Indian manufacturing on an international scale.
Features and Equipment
The Speed 400 and Scrambler 400X bikes come loaded with an array of impressive features and equipment. Let's take a closer look at what these motorcycles have to offer:
USD Forks: The bikes are equipped with Upside-Down (USD) forks, known for their superior handling and stability during rides.
Rear Mono-Shock: The inclusion of a rear mono-shock ensures optimal suspension performance, enhancing rider comfort and control.
Disc Brakes with Dual-Channel ABS: Both wheels are equipped with disc brakes, complemented by a dual-channel Anti-lock Braking System (ABS). This advanced braking technology ensures safe andcontrolled stopping power, even in challenging road conditions.
All-LED Lighting: The Speed 400 and Scrambler 400X feature all-LED lighting systems, providing excellent visibility and enhancing the bikes' overall aesthetics.
Traction Control: These motorcycles come with traction control, which helps prevent wheel slippage and provides enhanced stability and control, especially on slippery surfaces.
Semi-Digital Instrument Cluster: The bikes are equipped with a semi-digital instrument cluster that offers a perfect blend of analog and digital displays. Riders can easily monitor various parameters such as speed, fuel level, trip distance, and more.
Alloy Wheels with Tubeless Tires: The Speed 400 and Scrambler 400X boast stylish alloy wheels, which not only enhance the bikes' appearance but also offer improved performance and durability. The tubeless tires further enhance safety and provide added convenience in case of punctures.
India-Specific Characteristics
While the Speed 400 and Scrambler 400X motorcycles have an international appeal, they also incorporate India-specific characteristics. These features cater to the specific needs and preferences of Indian riders. Some of these characteristics include:
Grab Handles: The bikes come with grab handles, which provide additional support and stability for pillion riders.
Front Number Plates: The motorcycles are equipped with front number plates, ensuring compliance with the regulations set by the Indian authorities.
Sari Protector: To accommodate the cultural preferences of Indian riders, the bikes feature a sari protector. This component ensures the safety and convenience of riders wearing traditional attire.
Conclusion
The introduction of the Bajaj Auto-Triumph Speed 400 and Scrambler 400X motorcycles marks an exciting milestone in the partnership between Bajaj Auto and Triumph. These motorcycles showcase the best of Indian manufacturing and British design expertise, offering riders an exceptional riding experience.
With their remarkable features, including USD forks, rear mono-shocks, and disc brakes with dual-channel ABS, along with their unique design inspirations, the Speed 400 and Scrambler 400X are set to make a significant impact in the mid-capacity bike segment.
Priced competitively, the Speed 400 and Scrambler 400X motorcycles provide an excellent opportunity for motorcycle enthusiasts to own high-quality machines that combine performance, style, and affordability.
As Bajaj Auto-Triumph sets out to achieve significant volume with these new bikes, the manufacturing capabilities of the Chakan facility and the global reach of the Triumph brand will ensure that riders around the world can experience the thrill of riding these exceptional motorcycles.
Q. How much does a Bajaj Triumph bike cost?
A. Triumph Speed 400 Estimated Cost, Release Date, and Pictures…
A motorbike called the Triumph Speed 400 costs around Rs. 2.90 lakh.There are 3 colors and 1 version available.Bs6-2.0 engine power the Speed 400. Both the front and rear brakes are disc brakes.