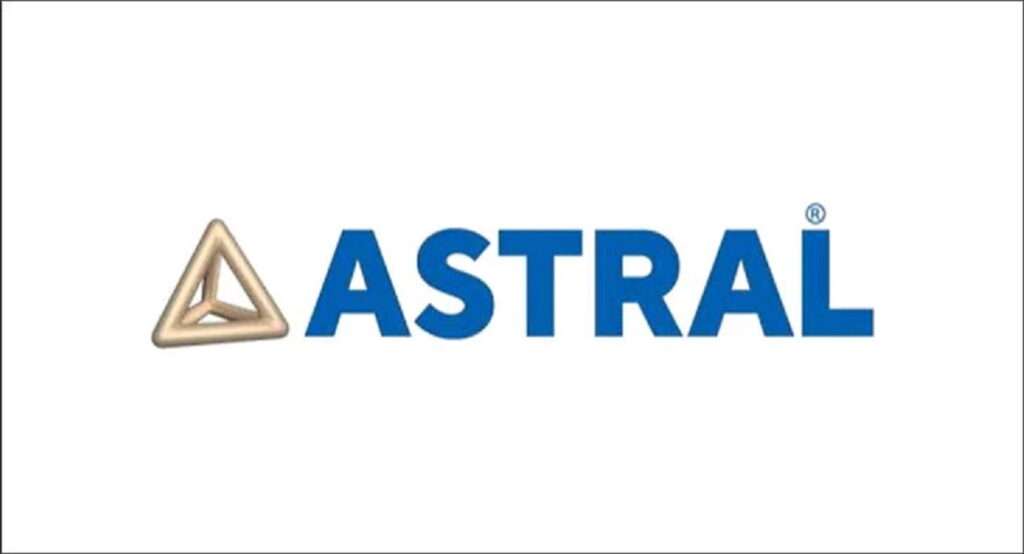 About Astral Limited Business:
Astral has a commanding market share in the domestic CPVC and PVC pipe industries. In addition to being a leader in the piping segment, it has expanded into the adhesives and sealants segment infrastructure products and water tanks. The Company has pipe manufacturing facilities at Santej and Dholka (Gujarat) Hosur (Tamil Nadu) Ghiloth (Rajasthan) Sangli (Maharashtra) Sitarganj (Uttarakhand) Aurangabad (Maharashtra) and Bhubaneswar (Odisha) for manufacturing plumbing systems drainage systems agricultural pipes industrial pipes fire protection pipes electrical conduit pipes and Infrastructure products. It also manufactures water tanks at plants located in Santej Ghiloth Hosur Aurangabad and Bhubaneswar. Besides the Company has adhesive and sealant manufacturing facilities at Santej (Gujarat) Rania and Unnao (U.P.) Elland (U.K.) and Stanford (USA).
To grab and strengthen the Southern India market, Astral limited made Telugu film star Allu Arjun, the brand ambassador for its pipes and water tank businesses.
It has more than 2500 distributors and more than 180000 dealers across the country. Astral Poly Technik Limited was incorporated on March 25 1996 as Astral Poly Technik Private Limited under the Companies Act 1956. The Company changed the name to Astral Poly Technik Limited vide fresh Certificate of Incorporation dated September 29, 2006. Pursuant to the Special Resolution dated March 9, 2021, the Company approved the change of name of the Company from Astral Poly Technik Limited to Astral Limited on April 12, 2021. The company is a manufacturer and provider of CPVC piping and plumbing systems in India since 1999
Astral Pipes was established in 1996 with the aim of manufacturing plumbing and drainage systems in India. Today, the firm covers the needs of millions of households, while adding extra mileage to India's developing real estate fraternity with the hallmark of unbeaten quality.
Astral Pipes aims to be a truly global, high-performing organization delivering quality products and services to its customers and attaining leadership positions in the industries firm operates.
Astral Ltd., values are aimed at creating an innovative, high-performance organization committed to providing quality products to our customers. These values define our conduct with customers, partners, shareholders, employees, and society.
Astral Pipes caters demands of its customers, serving with the intention to take excellence to newer heights. Astral Pipes is equipped with state-of-the-art production facilities across the country which enables it to meet the requirements of various geographies and markets.
Astral Limited said it has entered into the new business vertical of faucets and sanitaryware as a part of its growth strategy to leverage the brand and distribution muscle.
Safety:

Strive to prevent accidents, injuries, and illness at work.
Provide products that meet the highest safety standards

Excellence:

Be trendsetters in the industry by delivering exceptional performance
Deliver quality products and services to our customers

Integrity:

Be honest, fair, and do the right thing in the right way
Operate in letter and spirit of the highest standards of corporate ethics

Equitability:

Be unbiased and respect individual contributions that stem from their diverse backgrounds
Accept criticism and promote an open culture that enables sharing of ideas across the organization

Teamwork:

Unleash the hidden potential of employees by promoting a culture of teamwork across the organization
Leverage collective capabilities to achieve greater heights
Deals with the products:
Sewerage Drainage
Pipes & Fittings
Agriculture Pipes
& Fittings
Industrial Pipes &
Fittings
Fire Sprinklers
Pipes & Fittings
Insulation
Tube
Their employees: For years, Astral has been building a culture of trust. They have always encouraged teams to establish synergy across different departments by having transparent work culture. Employees have the ability to implement new ideas in a decentralized way, which in turn helps all good ideas to gain traction and quickly spread across other regions. At Astral, leadership is about more than overseeing a team of people. At Astral, equal opportunities are created for employees to grow which encourages them to excel. The company continuously seeks and aims to provide an environment that results in the personal and professional progress of the employees. Innovation and the dedication to providing the best have always been at the forefront of everything they do here at Astral. With their innovative drive, they aim to drive many more revolutionary products to cater to our customer's needs. The firm continues to set the bar higher by employing best-in-globe technology, adhering to world-class quality standards, and eventually remaining deeply committed to excellence. To drive this, every employee in the organization is encouraged to adopt entrepreneurial thinking and at the same time, always have readiness for change to keep up with the fast-changing market conditions.
Corporate Action
Astral consolidated net profit declines 50.14% in the September 2022 quarter, company expects good profit in December 2022 quarter.
Astral Limited inform BSE and NSE regarding the Meeting of the Board of Directors of the Company will be held on Tuesday, 7th February 2023, inter alia, to consider the following:
Consider and approve the Unaudited Financial Results (Standalone and
Consolidated) of the Company for the Quarter and Nine Months ended 31st December 2022;
Proposal for Issue of Bonus Equity Shares and declaration of Record Date for the
said purpose
Astral Limited gave 1:3 bonus shares to their shareholder in the last corporate action on 18.03.2021.
1. Is Astral Ltd a good quality company?

Astral Ltd is a fundamentally good quality company, the last 5 years' financial track record shows 333% returns, which good returns.
2. Can Astral Ltd consider a bonus share in Q3, December 2022 result?

Management has put up a Proposal for the Issue of Bonus Equity Shares and a declaration of Record Date for the consideration of bonus shares.
3. How much Bonus share Astral Ltd did consider in the past?
It was a 1:3 bonus share and was considered on 18.03.2021.
4. Market Cap of Astral Ltd?
It is a MidCap type company having a market cap of more than Rs 40,000 Crore
5. What does Astral Ltd manufacture?
Astral Limited manufactures plumbing and drainage systems in domestic CPVC and PVC pipe industries. The Company offers plumbing pipes, fittings, insulation tubes, fire sprinklers, water tanks, cable protection, and drainage systems. Astral is a leading manufacturer of CPVC and PVC pipe industries.
6. How much Bonus share Astral Ltd did consider in Q3, December 2022?
It was a 1:3 bonus share and was considered in Q3, December 2022.
Read more about Hindenburg research firm's track record
Open your DMATE ACCOUNT FREE:
ZERODHA : https://zerodha.com/open-account?c=EJ4366
ANGELONE: https://www.tatamotors.com/press/tata-motors-consolidated-q3-fy23-results/ttps://angel-one.onelink.me/Wjgr/tqyth5mn